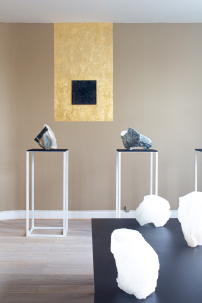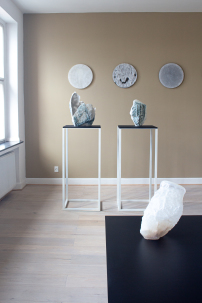 Anett Biliczki :: Reconstructed Landscapes
25. March - 22 April 2023
This is the first exhibition in the gallery's series on materials and nature, nature's materials and nature as inspiration.
The exhibition 'Reconstructed Landscapes' by Anett Biliczki is both a concrete reconstruction of (industrial) landscapes and encapsulated memories from a nomadic existence that has brought her from Hungary to Bornholm, Germany and now, Copenhagen. In three series of works, she captures recollections of landscapes and nature's details. Under titles such as 'Last Winter' and 'Dueodde', her glass objects reconstruct condensed stories with a universal human appeal.
Anett uses the full range of glass techniques, including blown glass, fusing and pate de verre. She sandblasts her moulds, sprinkles them with powdered glass and fires the objects in an electric kiln. She often combines multiple techniques in a single object, with surprising results. This complex process stands in contrast to the apparent simplicity of the finished pieces, which are often white with suggestions of snow and sand.
Anett's pieces contain a discourse about the environmental impact of glass production while her topics are often inspired by nature. Expressively, the pieces balance between industrial decay and a fascination with nature. She seeks to represent the inherent paradox of the beauty of glass in light of the heavy environmental footprint from historical large-scale glass manufacturing.
One of the series in the exhibition refers specifically to former production halls from the glass industry in Zwiesel Germany, an area where glass manufacturing has had severe environmental consequences. During a long stay there, she collected silicone imprints of the walls of abandoned factory halls and translated these gritty, abstract imprints into the moulds that the pieces were cast or blown in.
A series of wall-mounted glass reliefs shows nature impressions expressed in glass: snow on the beach, sand blown by the wind, tiny vibrations in surfaces. Frozen poetic moments of the movements of wind, snow and sand.
All works at the Exhibition. Look here at ARTSY.
Photo: Ida Buss