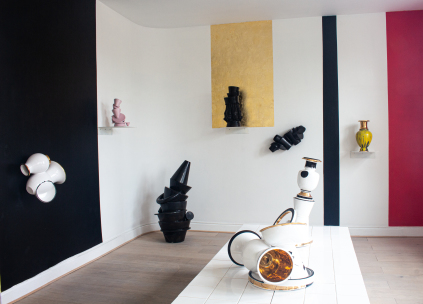 Michael Geertsen - From Decon to Deco
20 August - 22 October 2022
'From Decon to Deco' is an exhibition about the staging of objects. Featuring pieces from 20 years of work ­– ranging from abstract deconstructive compositions to reinterpretations of Danish art nouveau, so-called Skønvirke – a series of ceramic tableaux explores the relationship between space, framing and artwork.
The exhibition includes early abstract works by Michael Geertsen as well as recent pieces from the exhibition 'Geertsen vs. Hjorth' with Skønvirke ornamentation complemented by 'standing' objects from around 2010 and two grey splendor vases from 2015. Further, the presentation features recent pieces with a classicist approach combined with a contemporary element in the form of a certain disharmony, complexity and ornamentation. This display is tied together by fields of colour that all the objects relate to, across time and genre.
-------------------------------------------------------------------------
Enter Art Fair 2022 - August 25th - 28th
Artist represented: Bodil Manz, Gunhild Aaberg, Malene Müllertz, Beate Andersen, Bente Hansen, Morten Klitgaard, Per-Rene' Larsen, Bente Skjøttgaard & Michael Geertsen.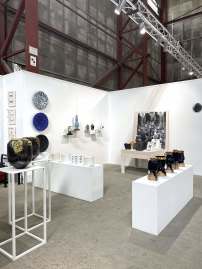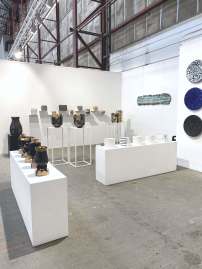 -------------------------------------------------------------------------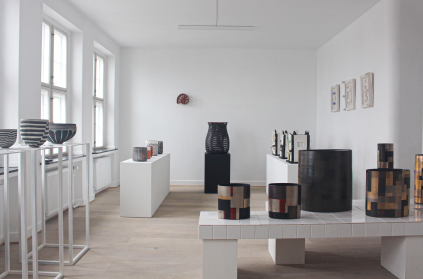 'Keramiske Veje' // 'Ceramic Paths' on Bornholm 2022
21 May - 30 July 2022
The exhibition group comprises some of the leading exponents of Danish studio pottery. For the past 50 years, they have set the bar for ceramic art. Based on the vessel form, they work with decoration, perforation, the interplay of colour and form and the possibilities afforded by the material through the application of a wide range of techniques. Across the diversity of artistic expression, they share the approach of working WITH the material and exploring its artistic possibilities. In this lifelong love affair with clay –with occasional detours into plaster or paper – they are driven by a passion for ceramic art. With continued curiosity about the inherent possibilities of the next vessel and the next ornament, they create contemporary and forward-looking works.
In the Bornholm exhibition, the group presents new work series. In a separate showing, the gallery presents a small memorial exhibition of works by Steen Lykke Madsen.
'Keramiske Veje': Beate Andersen, Bente Hansen, Bodil Manz, Malene Müllertz and Gunhild Aaberg.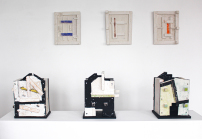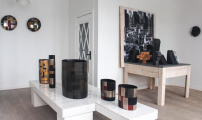 -------------------------------------------------------------------------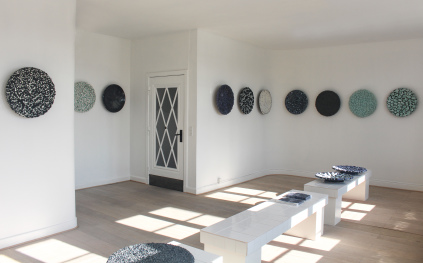 Sat til Vægs // Plates On the wall
30 Years of Texture on Surfaces by Lone Skov Madsen
1st April - 15th May 2022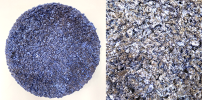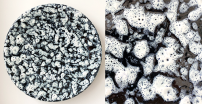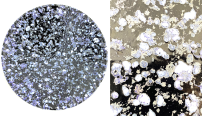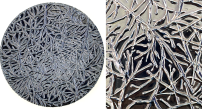 -------------------------------------------------------------------------
Ten Tales of Glaze - Bente Skjøttgaard // 27 Dec. - 23 Jan. 2022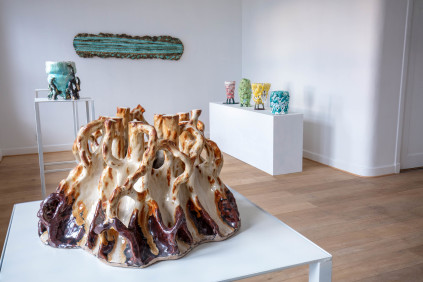 Through ten individual pieces, the exhibition presents a tour of twenty years' artistic practice with glaze as its pivotal focus. Few artists have followed a similarly consistent path, persistently exploring a single challenge in spite of changing trends and developments. As in other grand narratives, the source is inexhaustible, and the results are rich and diverse. This exhibition demonstrates that despite variations in expression, style and references, the core of the oeuvre remains unchanged. Bente Skjøttgaard is a pioneer in the contemporary fascination with dramatic glaze effects.
-------------------------------------------------------------------------
Glass on the Edge of Craft - Challenging the Material
During the exhibition 'Glass on the Edge of Craft - Challenging the Material' the gallery presents new works by Morten Klitgaard, Pernille Braun Per-René Larsen, Ida Wieth, Anett Biliczki
Køppe Contemporary Objects is a gallery and presentation platform for sculptural objects at the intersection of art and crafts. Køppe cooperates closely with a group of artists who share an interest in the inherent possibilities of materials and the historical qualities associated with traditional crafts and techniques. The artists share a passion for exploring the meaning of objects in relation to function and iconography. Another common feature of their work is their focus on combining tradition with interpretation and experimentation to create works that hold contemporary relevance.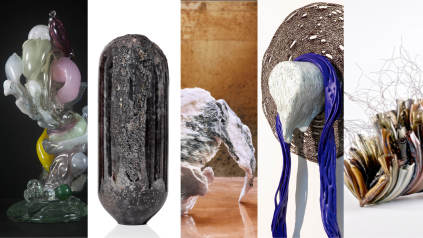 -------------------------------------------------------------------------
ENTER Art Fair 2021 Copenhagen
At Enter Art Fair 2021, the gallery did present a number of works under the title 'Accumulated Fragment'. The signature work was an installation by the internationally recognized ceramicist Bodil Manz. The installation is built like an experimental display of a futuristic architectural town model with the recognizable porcelain cylinders as the building blocks. The complete work is 400 x 110 cm and consists of 132 individual pieces.
Artists: Bodil Manz,Per-Rene' Larsen, Morten Klitgaard, Pernille Braun, Michael Geertsen/Rasmus Bækkel Fex.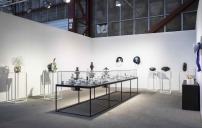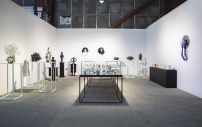 -------------------------------------------------------------------------
Pernille Pontoppidan Pedersen "The Object I Am"
24 July – 5 September 2021
Who knows
if things don't
know in themselves
that we're called / something else.
This excerpt from the Danish poet Inger Christensen's 'Letter in April' (trans. Susanna Nied) from 1979 invites us to consider ourselves and the rest of the world on the object's terms. This perspective has served as the basis for Pernille Pontoppidan Pedersen's solo exhibition The Object I Am, which opens at K ppe Contemporary Objects on 24 July.
In the creative process, the material almost becomes a sort of subject that answers back, expresses feelings, has a memory. The final piece is the product of an interaction between the two – in this case, the artist and the clay. In Pernille Pontoppidan Pedersen's own description, her engagement with the clay springs from an accumulation of energy and restlessness and observations of unusual encounters and the conflicts they give rise to.
Her works are easily decoded, free from contrived or speculative precepts and, most importantly, unpredictable, as a result of her deliberately impulsive process. These conversations with the object – clay, wood, glaze – are the overarching theme of The Object I Am.
'I wish to meet the object on equal footing and allow the dialogue to set the course. How can the object and I coexist on equal terms? How does the object exist independent of human perception, and can it exist on its own terms? The exhibition examines the object as something other and more than inanimate materiality – as something that is imbued with insight, knowledge, feelings and lived experience,' says Pernille and underscores the crucial importance of dialogue.
The American philosopher Graham Harman has formulated the theory of Object-Oriented Ontology, which claims that objects and human beings are equal and that it should be mandatory to embrace a perception of reality that goes beyond the common anthropocentric worldview: 'All such objects must be accounted for by ontology, not merely denounced or reduced to despicable nullities,' he writes. Pernille Pontoppidan Pedersen's works of art thus enter into a mutual dialogue with each other that takes place on the same terms as their dialogue with the viewer.
Pernille Pontoppidan Pedersen is a ceramic sculptor who lives and works on farm outside the Danish town of Silkeborg. Her engagement with the clay springs from an accumulation of energy and restlessness and observations of unusual encounters and the conflicts they give rise to. She is guided by impulses and intuition, which imbues the form and expression of the individual pieces with a quality of unpredictability.
Pernille Pontoppidan Pedersen has held several exhibitions both in Denmark and abroad. Her works are included in the collections of Musee des Arts Decoratifs in Paris and CLAY Museum of Ceramic Art Denmark and in the Erik Veistrup Collection. She is a participantin the Danish Arts Foundation's career promotion programme Den Unge Kunstneriske Elite (The Young Artistic Elite) 2021–22.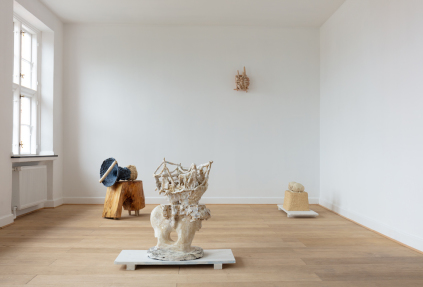 -------------------------------------------------------------------------
Morten Klitgaard : Perception : 26 June -18 July
Morten Klitgaard's art exemplifies perfectly how crucial technical skill is for artistic innovation. His work revolves around material and technique, and through his mastery of these two core aspects he has developed a unique artistic expression, grasp of form and material approach.
Morten Klitgaard's original interest in glass was sparked by his fascination with the working process: the finely choreographed 'dance' when the glass-blowers at Holmegaard Glassworks assumed their precise positions to create an object in smooth, closely coordinated movements. This skilled performance fascinates many people and is often the first step for anyone who ends up working with glass.
Glass has occupied a central place in Morten Klitgaard's life ever since his childhood in Lønstrup on the Danish North Sea coast. After lengthy internships with some of Denmark's leading glass-blowers and a BA from The Danish Royal Academy on Bornholm he now has his own studio and practice.
Like many of his generation, he aims to visualize the physical processes of the materials. Instead of a more traditional, planned approach, form and ornamentation emerge through his engagement with the material by means of air and fire. The result is an often raw and accidental expression, an aesthetic that seems to reproduce the forces of nature. The young generation has grown up with the awareness that nature is under threat, that all materials are precious, and that humankind, in our excessive need for conquest and innovation, have destroyed and depleted irreplaceable resources. The result is an aesthetic where natural is beautiful, and where natural materials do not need to be cultivated but instead contain an inherent beauty that is good (GOD). It is this background – from a child's fascination to a profound grasp of material possibilities and meaning – that forms the foundation of Morten's current practice.
His pieces balance between the recognizably familiar and the supernatural. They are heavy, raw, masculine. The notion that these pieces are 'man-made', even 'mouth-made', is received with scepticism – certainly, they must be ceramics, not glass, which is associated with a different set of qualities. The rapidity of the process, in contrast to the slow ceramic techniques, has a crucial impact on the objects' suppleness of form and their surface ornamentation.
A common quality of the groups Metamorphosis, Fosforit, Voir, Oro, Flux and Origin that Morten has been working on over the past four years is that the spontaneity of the glass process is manifested in their expression. The longer he works to perfect the technique, the simpler the forms become. The natural form is created by gravity, by the air blown into the glass and by his technical mastery.
Most of all, the pieces resemble monoliths from outer space, eggs laid by an extra-terrestrial alien or maybe a new variety of stone. This is something as rare as masculine glass, liberated from the classic 'pretty' qualities that are often associated with glass but still maintaining its power of fascination, beauty and natural presence.
Køppe, Juni 2021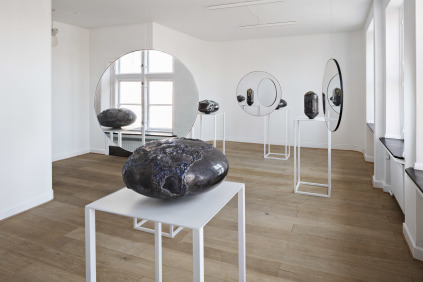 -------------------------------------------------------------------------
ENTER Art Fair 2020 Cph 27 - 30 August
At ENTER ART FAIR 2020, Køppe Contemporary Objects presents three work series that all examine the relationship between decoration and process.
The three artists showcased by the gallery all seek to expose the processing of their materials and to visualize the process from raw material to the finished work of art, where both form and surface are shaped by experimental processes that are often hard to control. Through their decades-long professional practice, the artists have developed a grasp of ceramics and glass, respectively, that elevates the pieces from experiments and alchemical samples to singular works of art with a decorative quality. The works are outstanding examples of current Danish crafts – contemporary conversation pieces.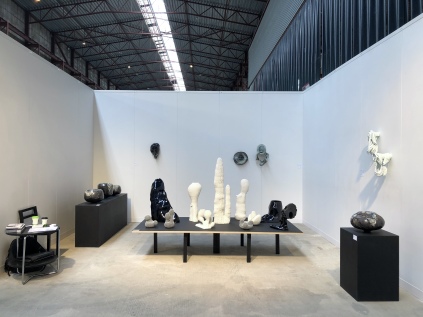 -------------------------------------------------------------------------
Summer Exhibition :: Shapes 'n' Surface
The exhibition presents a large group of ceramic pieces by Lone Skov Madsen, dating from 2007–2019. Across the wide variation in expression and the long time span, her work explores a common theme. The shapes are organic, always with the vase as the underlying form. Thus, the unfettered expression notwithstanding, there is a unifying quality to the form that allows for experimental decorative surfaces. Lone Skov Madsen's treatment of ceramic surfaces is her specialty, based on repetition of minute artistic features to form powerful ornamentation.
Together with the works by Lone Skov Madsen we also present more recent pieces by Bodil Manz, Michael Geertsen, Pernille Pontoppidan, Morten Klitgaard, Irene Nordli, Mia Göransson.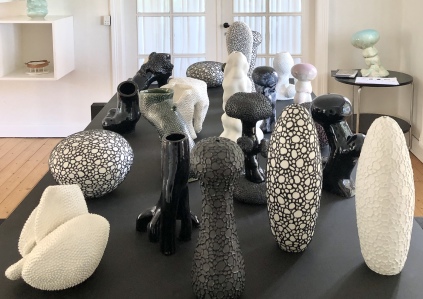 -------------------------------------------------------------------------
Porcelain Plus + Göransson + Manz + Nordli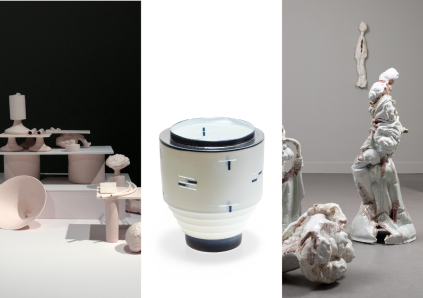 Exhibition space 'Officinet' - Bredgade 66, Copenhagen
Exhibition period: 8 February – 29 February 2020
Contributing artists: Irene Nordli (N), Bodil Manz (DK), Mia E. Göransson (S)
The exhibition is curated by Bettina Køppe – Køppe Contemporary Objects
The exhibition is supported by the Danish Arts Foundation
The exhibition PORCELAIN PLUS - Nordli + Manz + Göransson is a material-oriented exhibition where the potential of porcelain for artistic statements is demonstrated by three Nordic virtuosos. It is a contemporary exhibition that addresses current and traditional artistic issues.
Irene Nordli's (N) point of departure is the porcelain figurine. It has undergone a development, where figurative elements peek out in large organic accumulations. Her use of the material is dramatic, suggesting intuitive emotional outbursts and offering glimpses of human body parts. The result is a contemporary ceramic sculpture with references to traditional porcelain figurines.
Bodil Manz (DK) generally explores 'the vessel' in her work. The exhibition shows her latest porcelain cylinders - paper-thin, with sharp geometric decorations and a subtle perforation that opens the body up to reveal the interior space. Through her longstanding work with porcelain Bodil Manz has developed a unique sense of the material's capacity and poetic presence.
Mia E. Göransson (S) works within the still-life tradition. Based on her vast library of moulds she casts elements, which are then stacked and combined to form abstract scenes in delicate colours. Her work addresses the sculptor's classic focus on contrasts: soft vs. hard, figurative vs. abstract. Mia's tableaux form ceramic landscapes with references to nature and industry.
-------------------------------------------------------------------------
CHART DESIGN FAIR 2019 Cph
Again, this year, Køppe Contemporary Objects is present at the CHART DESIGN FAIR. The fair is held at Den Frie Centre of Contemporary Art, Oslo Plads 1 in Copenhagen, from 30 August to 1 September 2019.

The gallery presents works by:
Gitte Bjørn /Silver, Egeværk /Wood, Michael Geertsen /Ceramic, Marianne Eriksen Scott-Hansen /Paper, Morten Klitgaard /Glass, Per-René Larsen /Glass, Irene Nordli/ Ceramic, Pernille Pontoppidan Pedersen /Ceramic, Ida Wieth /Glass

At CHART DESIGN Køppe Contemporary Objects continues to showcase the artistic potential of crafts. We present pieces with a variety of expressions, where the process and the treatment of the materials determine the final result.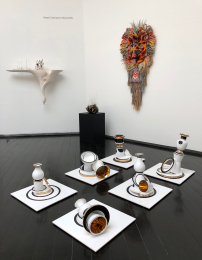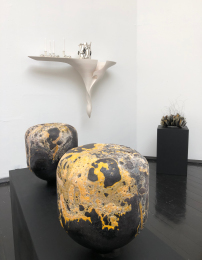 -------------------------------------------------------------------------
MEMORIES
New works in glass by Per-René Larsen
Exhibition at Officinet – Bredgade 66 – Copenhagen
Private view 6 June 16.00-19.00
Last day of the exhibition 29 June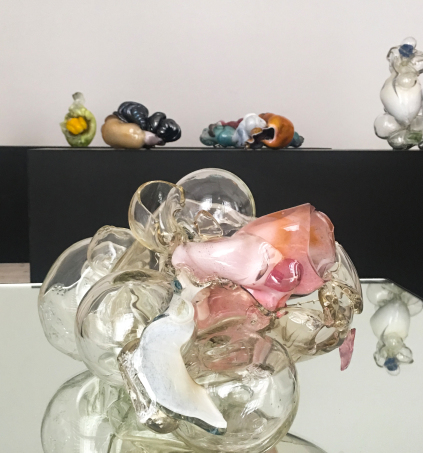 The exhibition is a celebration of the Danish glass artist Per-René Larsen's 70th birthday on 22 June 2019. It presents 10 new pieces in his sculptural hot glass series 'Easy Living'.
About Per-René:
Per-René Larsen belongs to the first generation of studio glass artists in Denmark. He graduated from the School of Decorative Art (now Royal Danish Academy of Fine Arts, School of Design) in Copenhagen in 1975 and later attended the Nordic region's leading glass school, Orrefors Glasskola (now the National School of Glass), in Sweden.
Per-René co-founded the ltd. glassworks Snoldelev Glasbrug Amba in cooperation with Skak Snitker and others and immediately became one of the leading studio glass artists. The experimental and explorative approach to the material has characterized Per-René's glass art ever since.
In 1984 he founded the workshop 'Fanefjord Glas' on the Danish island of Møn, where he still works today. Here he pursues three tracks: utilitarian glass, which, in addition to paying the rent, is also a playful exploration of function; sculptural hot glass, often based on the concept of the vase; and Land Art installations, which investigate the optical possibilities of glass in a dialogue with the environment. All three lines of work are approached with equal care and skill.
Per-René never ceases to challenge conventions and has no desire to meet market expectations or ride the coat tails of artistic fads. His approach is that of a scientist studying the possibilities of his material, while the public aspects of the artist's life are a necessary evil.
In a brief essay, 'Why hot glass', he outlines the considerations and challenges that exist at the intersection of art and craft, as follows:
A polarisation has arisen with studio glass. On the one hand are those who reject anything having to do with process-oriented work and who try to achieve artistic legitimacy by concentrating on the established language of art as expressed in sculpture, installation, etc. On the other hand are those who concentrate on pushing beyond the bounds of conventional craftsmanship in the name of purely aesthetic criteria, often without daring to infuse their works with the sharpness that could truly move barriers.
I see this polarisation as a misplaced focus on the context of the times – at its worst, a dishonest parrotry. An artistic statement cannot be inhibited by the fact that the world does not take the medium seriously. On the other hand, the process-oriented work can by virtue of respect and devotion to the material infuse a work with the physicality and poetry that modern art rejects, but which is a vital prerequisite for our mental survival.
About the glass series 'Easy Living':
The exhibition shows pieces from the series 'Easy Living' or 'A paraphrase on tidying up accumulated matter'. The technique applied here is one that Per-René has developed over the past five years. Briefly put, the works are glass collages based on older pieces and details combined with specially produced glass elements entering into a new fusion and composition and emerging as a new work of art.
The result: a Per-René remix. The clear glass orbs are suggestive of utilitarian glass, and in combination with the older 'vase' components, the references to his earlier hot glass works are evident. In scale, the pieces resemble vases and classic craft objects traditionally used in the home. In addition to drawing on glass history the pieces also reference Per-René's almost five-decades-long engagement with both utilitarian and sculptural glass. The collage technique is complicated. The process involves working directly in hot glass and requires painstaking planning. Regardless of the artist's skill and experience the process can never be fully controlled, and throughout the artist has to remain open to the material and ready to follow the process as it unfolds.
By sampling both Per-René s history and the history of glass-making, the 'Easy Living' series offers a current take on contemporary glass sculpture. The material is pushed to the limit, the references are in place, and the result is startlingly beautiful and visually challenging.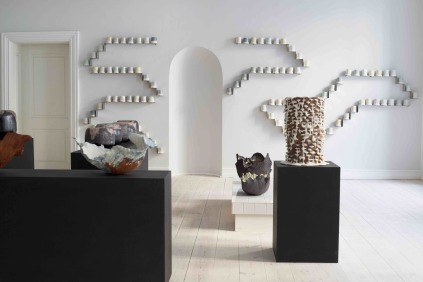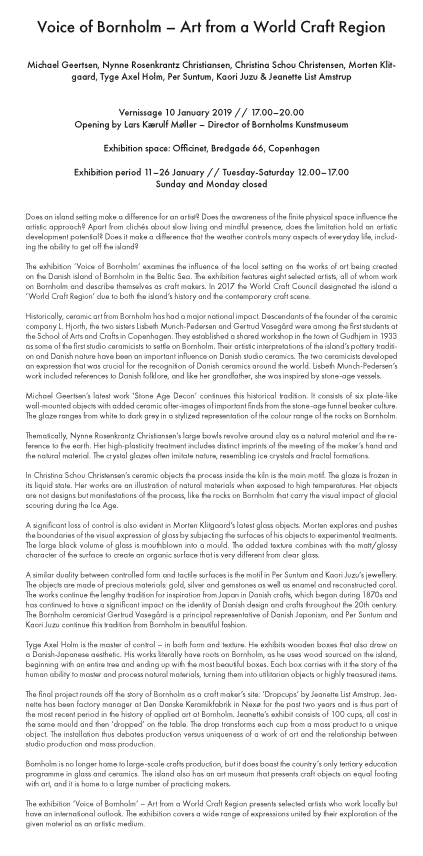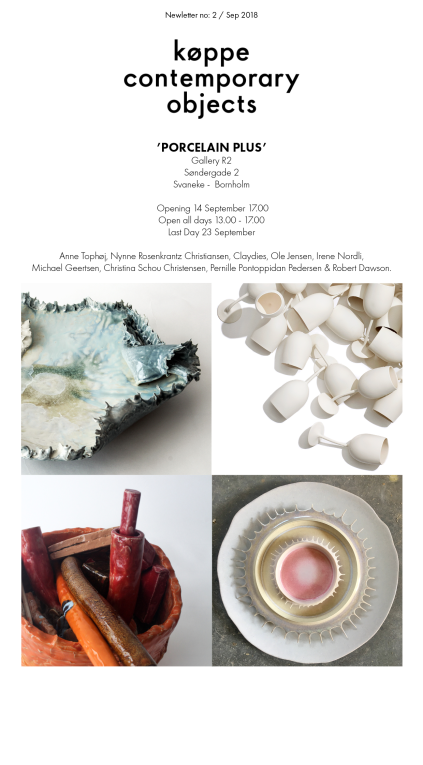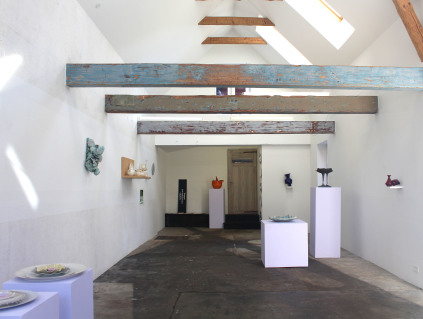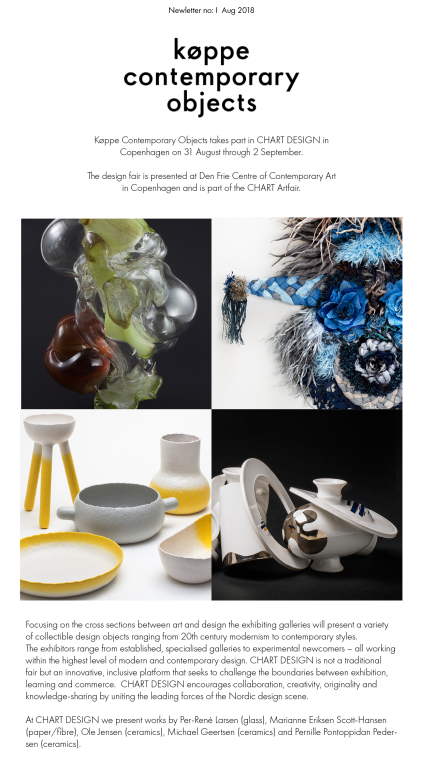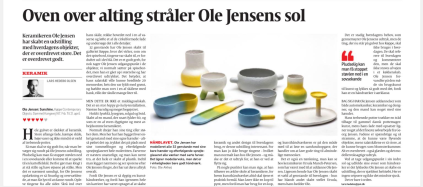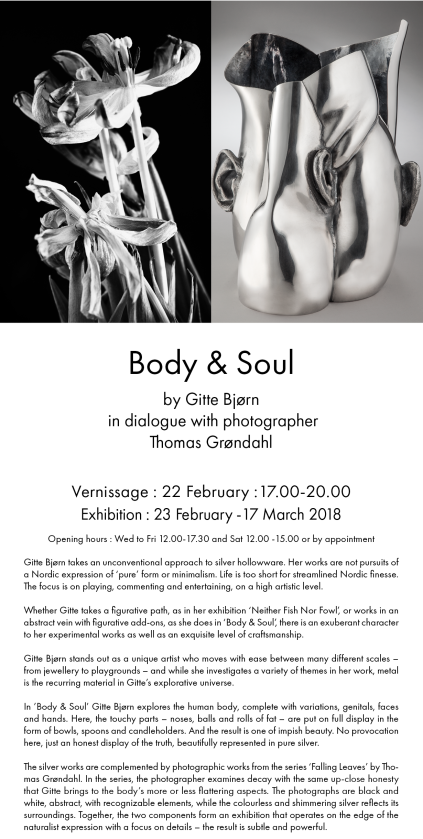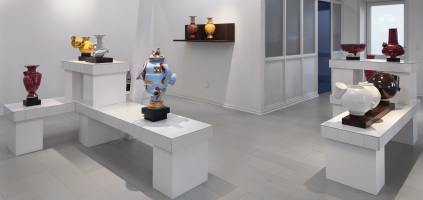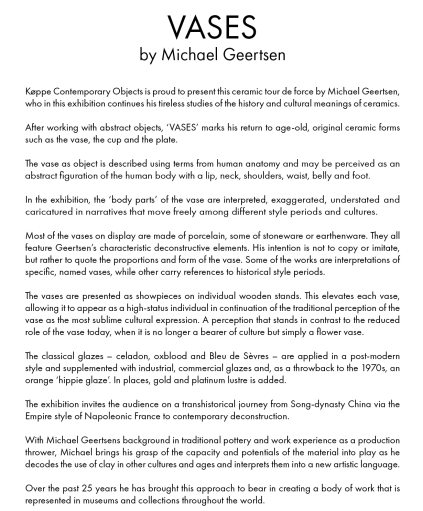 Paper Creatures
Contemporary Paper cuts by Marianne Eriksen Scott-Hansen
Exhibition : 3 November - 16 December 2017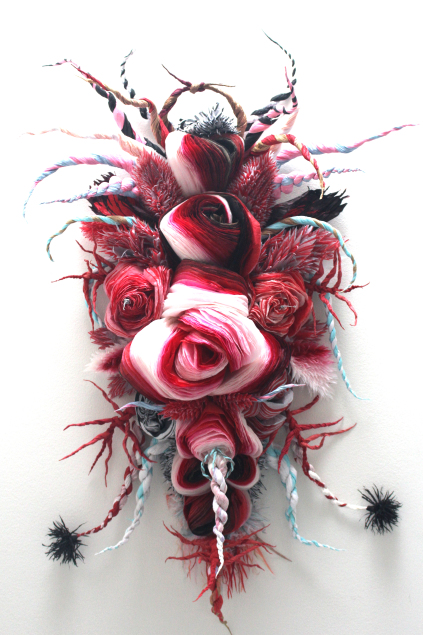 With a neo-baroque approach to her material, Marianne braids, knots, cuts and twists her way through vast amounts of paper. The colours are either heavy and sombre or delicate pastels. The material is vibrant and light. The many components combine to form new entities, and the immediate beauty comes with sombre undertones. Always perfectly balanced with a decorative purpose in mind.
Marianne graduated from The Danish Design School, Line of Clothing Design, Institute for One-Off Designs (now Royal Danish Academy of Fine Arts, School of Design). After working with textile and leather for many years, paper proved to offer the optimal medium for her to unfold her universe. The humble and pliable character of paper makes it an ideal 'experimentarium'. Like a sculptor she creates new forms by combining many small components. Her works appear as a bustling jumble of tiny independent objects. Seen from a distance, they form a balanced, harmonious object; shaped in the most delicate materials with exquisite skill and craftsmanship.
This exhibition has the mask and thus the face as its overarching theme. Like the baroque painter Giuseppe Arcimboldo, who uses individual elements – vegetables, fruit, birds and fish – as allegories for a larger whole, Marianne uses nature-like elements to form new images with a surrealist feel.
Perception of Softness
Gallery Exhibition 24th August - 21th October 2017
Isabel Berglund - Heidi Bjørgan - Pernille Braun- Christina Schou Christsensen - Susanne Hangaard - Marianne Eriksen Scott-Hansen - Nils Viga Hausken - Gitte Jungersen - Per-René Larsen - Rikke Ruhwald - Terese William Waenerlund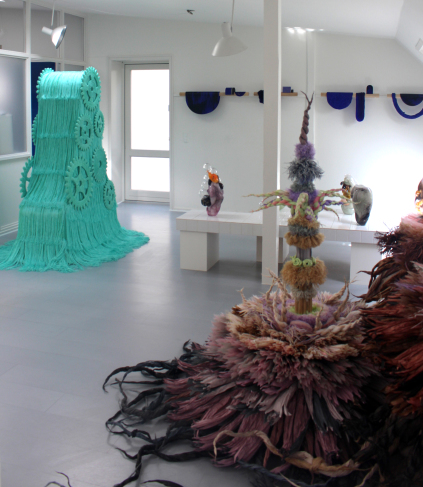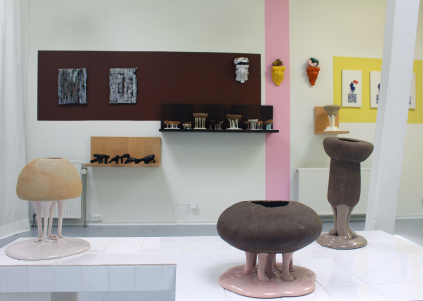 To Be Lost in an Object - Susanne Hangaard : Gallery Exhibition 10 May - 17 June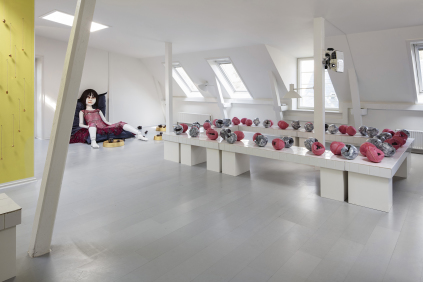 Collect 2017: The International Art Fair for Contemporary Objects
Køppe Contemporary Objects is proud to announce we ware participating in Collect - the last time was in 2009. Now in its 13th edition, Køppe Contemporary Objects were showing in the stunning setting of the Saatchi Gallery in London's Kings Road from 2 – 6 February 2017.
Read more about Collect:
http://www.craftscouncil.org.uk/what-we-do/collect/
The background for Køppe Contemporary's selection of works for Collect is an artistic analysis of the role of the home in a postmodern Nordic context. The exhibition visualizes the traditional functions of the home by means of works whose lack of functionality highlights how the late modern home has become devoid of functions.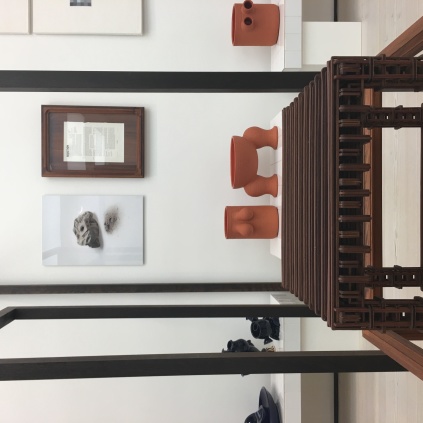 Pernille Pontoppidan Pedersen
'Nine Supensions'
Vernisage
Thursday 8th December
1700 — 1900
Exhibition
from 9th — 20th December
by appointment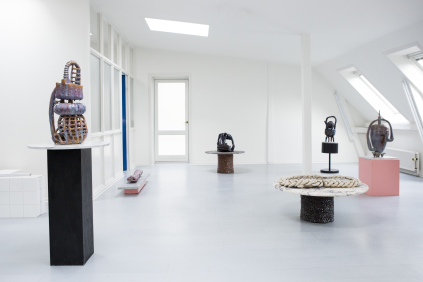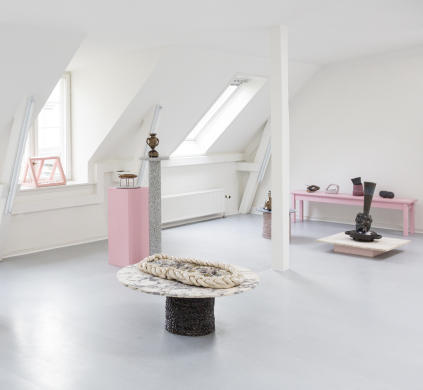 9 — 20 December 2016
The works suggest familiar everyday objects: vases, cake stands, bowls and dishes, but in a slightly distorted perspective. All the traces of hand-crafting have been maintained. In glaze. In my works, I pursue a diverse idiom, where familiar functional or form elements from everyday life are transformed into a more abstract sculptural expression. These traces of familiarity fused with abstract form create an indefinable dual sense of uncertainty and familiarity.
In Nine Suspensions, I explore ceramic sculpture. Working in malleable clay, I create shapes that engage in a dialogue with the viewer's conceptual framework and sense of recognition. My goal is to explore the way a certain form can appear familiar and evoke parallels to another object that seems somehow related. A relationship between two forms that appear unrelated to anyone besides the individual beholder.
Consciously as well as unconsciously, we search our memory and subconscious for references to something that we already know, have experienced or sensed. When we look at a familiar form, we are able to sense what it feels like, how it feels in one's hand, the tactility and the material.
I find this framework of concepts and references that each of us develops and relies upon via our memory – underlying as well as conscious layers – fascinating and inspiring, and it is exactly what I aim to explore and examine through my pieces in 'Nine Suspensions'.

Pernille Pontoppidan Pedersen
Plates & Platters
13 — 22 October 2016
Artists : Robert Dawson, Anne Tophøj, Paul Scott,
Marek Cecula, Michael Geertsen & Peder Rasmussen