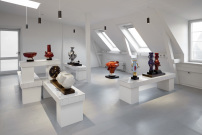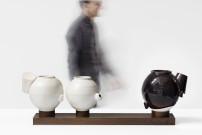 After working with abstract objects, 'VASES' marks his return to age-old, original ceramic forms such as the vase, the cup and the plate.
The vase as object is described using terms from human anatomy and may be perceived as an abstract figuration of the human body with a lip, neck, shoulders, waist, belly and foot.
In the exhibition, the 'body parts' of the vase are interpreted, exaggerated, understated and caricatured in narratives that move freely among different style periods and cultures.
Most of the vases on display are made of porcelain, some of stoneware or earthenware. They all feature Geertsen's characteristic deconstructive elements.
His intention is not to copy or imitate, but rather to quote the proportions and form of the vase. Some of the works are interpretations of specific, named vases, while other carry references to historical style periods.
The vases are presented as showpieces on individual wooden stands. This elevates each vase, allowing it to appear as a high-status individual in continuation of the traditional perception of the vase as the most sublime cultural expression. A perception that stands in contrast to the reduced role of the vase today, when it is no longer a bearer of culture but simply a flower vase.
The classical glazes – celadon, oxblood and Bleu de Sèvres – are applied in a post-modern style and supplemented with industrial, commercial glazes and, as a throwback to the 1970s, an orange 'hippie glaze'. In places, gold and platinum lustre is added.
The exhibition invites the audience on a transhistorical journey from Song-dynasty China via the Empire style of Napoleonic France to contemporary deconstruction.
With Michael Geertsens background in traditional pottery and work experience as a production thrower, Michael brings his grasp of the capacity and potentials of the material into play as he decodes the use of clay in other cultures and ages and interprets them into a new artistic language.
Over the past 25 years he has brought this approach to bear in creating a body of work that is represented in museums and collections throughout the world.
All works for this exhibiton are producred at Cranbrook Art Academy, Statens Værksteder for Kunst and in Geertsens Studio